Industrial cellular RTU for data acquisition, storage, control, alarm and transmission.
2-RS232, 2-RS485, 8-DI, 8-DO, 8-ADC,

2-Pulse, 3-Power output, 1-SD slot

Supports up to 16MB data storage and additional SD card data storage(Up to 16G)

LCD display of data and configuration*

Modbus TCP/RTU, MQTT, TCP/UDP protocols

SMS alarm and AT command

4G LTE or 3G for option
* Customized firmware
Giới thiệu
Tính năng kỹ thuật
Ứng dụng tiêu biểu
Download
TY511 Series RTU is a type of industrial cellular remote telemetry unit, which adopts high-powered industrial 32-bits CPU, with multi-layer software detection and hardware protection mechanism to ensure reliability and stability of the device.

It supports worldwide carrier 4G/3G/2G cellular network FDD-LTE, TDD-LTE, and HSPA/UMTS/WCDMA, EVDO, TD-SCDMA, EDGE, CDMA 1X and GPRS, to realize real time data acquisition, storage, control, alarm and transmission, as well as security of data transmission.
TY511 has rich interfaces, including tipping bucket rain gauge input, RS232, RS485, I/O, etc., and it has been widely used for remote monitoring and control applications, such as, hydrology, water resources, water pollution, water treatment, reservoir dam, mountain flood disaster, geological disaster, meteorology, environmental protection, new energy resources, etc.
*Customized firmware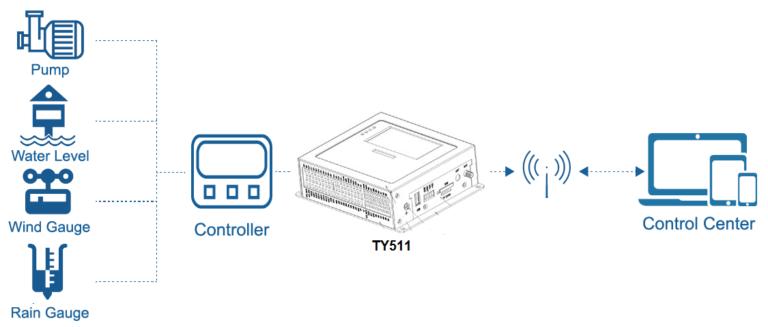 Item

TY511

System

Flash
SRAM

16MB
256KB

Cellular Interface

Antenna Connector
SIM Slot

1 × 50 Ω SMA Female, or 2(Option)
1

Serial Interface

Ports

2 × RS232+ 2 × RS485

Analog Input

Ports

8 x 16-bit AD, supports 4-20mA current signal input, and 0-5V voltage signal input is optional

Digital Input

Ports

8(optical isolation)
Logic 0: Wet contact 0-3VDC, or dry contact close
Logic 1: Wet contact DC 5-30V, or dry contact open

Relay

Ports

8
Max switching voltage: 30VDC/250VAC
Max switching current: 4A
Max switching power : 120W

Power Output

Ports

3
Default is 12V. Rated output current of 1 power output is 1A, and total rated output current of 3 power outputs is 2A, built in overcurrent pr otection

Pulse quantity

Ports

2x tipping bucket rain gauge input(low level)
2x pulse input(high level)

DO(Digital output)

Ports

2 (optical isolation, Open Collector)

Rated drive current : 50mA
Rated drive voltage: 35V

USB Port (Reserved)

Ports

1
For external display screen port, able to connect 192*64 dot matrix STN LCD screen with keyboard

SD card slot

Ports

1
Support up to 16G

Software

Network Protocols Management

MQTT*, Transparent (TCP Client/Server, UDP Client/Server), Modbus Gateway (Modbus RTU to Modbus TCP), DNS Config Tool, Cloud DMP (Device Management Platform)*

Power Requirements

Standard Power Input Voltage

DC 12V/1.5A 5-35 VDC

Physical

Ingress Protection Housing & Weight Dimensions Mounting

IP30 Metal, 320g (0.71lbs) 100 x 100 x 23mm (3.94 x 3.94 x 0.91 in) Desktop, Wall mount, DIN Rail (option)

Environmental

Operating Temperature

Operating Temperature -35°C to +75°C (-31℉ to +167℉)

Others

LCD Screen

LED Indicators

Approvals

Warranty


128*64 dot matrix, backlight

System, Online, Power, Error

CE*, RCM*, FCC*(* Under progress)

Standard: 12 Months
Extended: 2-5 Years*(Please refer to warranty policy)