Mini RTU with 4G LTE, rich I/O and protocols
Compatible with global 4G/3G/2G and LTE CAT M1/NB-IoT

2-RS232, 1-RS485, 3-ADC, 2-DI, 2-Relay, 1-power output

Modbus TCP/RTU, MQTT, TCP/UDP protocols

Up to 16MB Local data storage, support 5 data centers

SMS alarm and AT command
Giới thiệu
Tính năng kỹ thuật
Ứng dụng tiêu biểu
Download
Bivocom TG501 is an industrial cellular RTU designed for remote monitoring and control applications, such as, water & waste water management, pump station, gas & oil, smart energy, smart grid, smart building, precision agriculture, etc.

It has rich I/O for connecting to diverse sensors and controllers, with built in protocol MQTT*, Modbus RTU, TCP/UDP, that allows user to transfer the data from field devices to cloud.

We understand that there are applications require high speed, better, wider coverage and low cost RTU, so we make TG501 with option of 4G LTE, 3G and LTE CAT M1/NB-IoT, to meet your needs.
*Customized firmware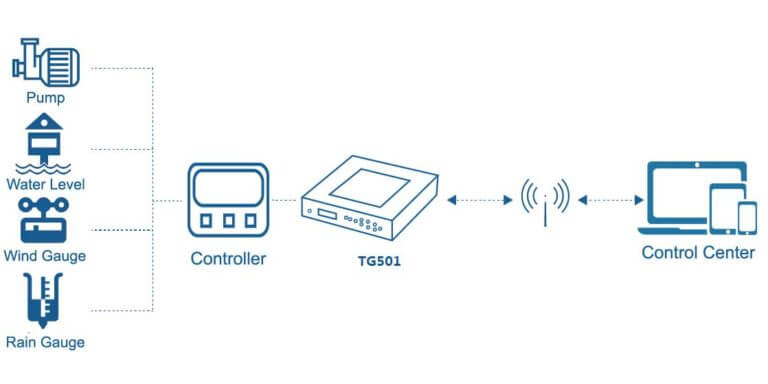 System
Flash: 512KB

SRAM: 256KB

Data Storage Flash: 16MB

Cellular Interface
Antenna Connector: 1, or 2 × 50 Ω SMA Female(Option)

SIM Slot: 1

Serial Interface
Connector: Terminal block, 3.5 mm female socket with lock

Ports: 2 × RS232(1 for debug) + 1 × RS485

Baud Rate: 100bps to 230400bps

15KV ESD Protection

GPS (Optional)
Module: Built-in independent GPS module

Antenna Connector: 1 × 50 Ω SMA Female

I/O
Connector: Terminal block, 3.5 mm female socket with lock

DI: 2




Logic 0: Wet contact 0-3VDC, or dry contact close




Logic 1: Wet contact DC 5-30V, or dry contact open

DO: 2-Relay

Max switching voltage: 30VDC/250VAC Max switching current: 5A

ADC: 3 x 16-bit AD, supports 4-20mA current signal input, and 0-5V voltage signal input(Option)

Power Output: 1

Default is 12V. rated output current is 1A, built in overcurrent protection

Built-in overcurrent protection, for external devices DC power input
Power Requirements
Connector: Terminal block, 3.5 mm female socket with lock

Standard Power: DC 12V/1.5A

Input Voltage: 5-35 VDC
Software
Serial Port: MQTT, Transparent (TCP Client/Server, UDP Client/Server), Modbus Gateway (Modbus RTU to Modbus TCP), DNS

Management: Config Tool, Cloud DMP (Device Management Platform)*

Physical
Ingress Protection: IP30

Housing & Weight: Metal, 320g (0.71lbs)

Dimensions: 100 x 100 x 23mm (3.94 x 3.94 x 0.91 in)

Mounting: Desktop, Wall mount, DIN Rail (option)

Environmental
Operating Temperature: -35°C to +75°C (-31℉ to +167℉)

Storage Temperature: -40°C to +80°C (-40℉ to +176℉)

Humidity: 0% to 93% (non-condensing) at 25°C/77℉

Others
LED Indicators: System, Online, Power, Error

Warranty Period: Standard: 12 Months, Extended: 2-5 Years*(Please refer to warranty policy)

Approvals: CE*, RCM*, NBTC*, FCC*(*Under Progress)
Dimension (mm)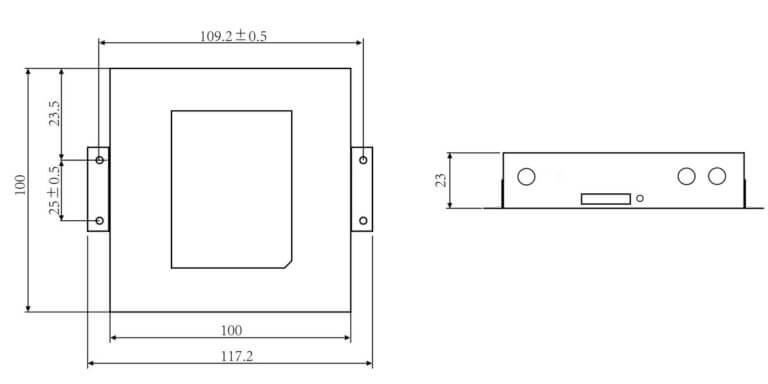 Order Information
Model

Part Number*

Description

Frequency Band*

TG501-LF

TG501-L<...>

4G, 2-RS232, 1-RS485, 3-ADC, 2-DI, 2-Relay, 1-power output

4G LTE CAT 4
EMEA: B1/B3/B5/B7/B8/B20/B38/B40/B41
ANZ/LATAM: B1/B3/B5/B7/B8/B28
NA: B2/B4/B5/B12/B13/B14

TG501-W

TG501-W<..>

3G, 2-RS232, 1-RS485, 3-ADC, 2-DI, 2-Relay, 1-power output

3G/HSPA/UMTS/WCDMA
Global: 800/850/900/1900/2100

TG501-M

TG501-M<...>

LTE CAT M1/NB-IoT, 2-RS232, 1-RS485, 3-ADC, 2-DI, 2-Relay, 1-power output

LTE CAT M1/NB-IoT/EDGE/GPRS
APAC: FDD-LTE B1/B3/B5/B8 GPRS/EDGE 900/1800 MHz
NA: FDD-LTE B2/B4/B12/B13
EMEA/ANZ: FDD-LTE B3/B8/B20/B28 GPRS/EDGE 900/1800Mhz Global: FDD-LTE B1/B2/B3/B4/B5/B8/B12/B13/B17/B18/B19/B20/B25/B26/B28/(B39 CAT-M1 only); GPRS/EDGE 850/900/1800/1900Mhz
1. <1> in part number means different frequency band for different market, <2> means if device comes with GPS(G) or not, please ask Bivocom sales representatives or your local partner for more information.

2. Frequency band in the table are just part of our models, if you couldn't find the frequency band in your regions, please feel free to contact us.